Cost of In-Home Care for Seniors
When you or a loved one needs in-home health care, the list of questions may seem endless.
How much do services cost?
How can I afford it?
Are any costs covered by insurance or Medicare?
How do I know I can trust the service provider who comes to the home?
Studies have shown that being able to age-in-place is best for seniors because it allows them to remain comfortable in their own home and familiar setting. Leaves offers customized in-home care plans for each client. We make sure your or your loved one's unique needs are met and are cared for in the best way possible to provide dignity and independence.
In-home health care costs are dependent on the number of hours of care needed and the type of care. In many situations, in-home health care services cost less than an assisted living facility. Call us at 616.575.8519 to learn more about our rates and customized plans. Or, schedule a free consultation [insert chatbot scheduling link] to discuss your or your loved one's need more in-depth.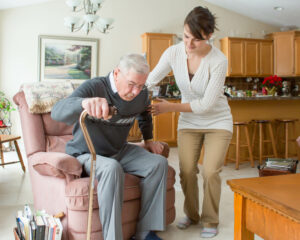 A long-term care cost study was done by Genworth in 2020 and shows that in-home care can often be more affordable than moving to an assisted living facility. Please keep in mind these are not Leaves' rates and the chart is meant to provide a general range of in-home care costs.