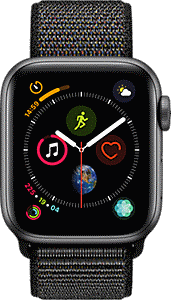 New watch from Apple may signify exciting things to come.
Let's be clear, a $500 watch is a significant investment.  Leaves isn't  promoting or profiting from the Apple brand and we haven't had the opportunity to evaluate it live, however, since Apple has received FDA approval to call the Apple Watch Series 4 a medical device, a lot of interest has been generated, especially as a safety option for seniors living at home alone.
A couple of the feature most touted for their health and safety benefits are the new fall detection feature and the built in ECG app.  The watch contains both a gyroscope and a new accelerometer which are able to detect hard falls.  In Apple's press release they state, "By analyzing wrist trajectory and impact acceleration, Apple Watch sends the user an alert after a fall, which can be dismissed or used to initiate a call to emergency services.  If Apple Watch senses immobility for 60 seconds after the notification, it will automatically call emergency services and send a message along with location to emergency contacts."
"Health and safety benefits include the new fall detection feature and a built in ECG app."
The new electrical heart rate sensor is built into the crown and includes a haptic sensor so there's a slight buzz when it senses your finger.  Apple's press release continues, "an electrical heart rate sensor that can take an electrocardiogram (ECG) using the new ECG app, which has been granted a De Novo classification by the FDA."  The ECG monitor can detect atrial fibrillation – a leading cause of stroke in the US.  British Health and Social Care Secretary, Matt Hancock, has stated publicly that a "health tech revolution" is on it's way.  Certainly, this new watch from Apple might very well signify exciting things to come.
So, ultimately, whether or not the Apple watch is right for you is a decision only you can make. But, if you are one of those who feel the $500 price tag is not exclusive enough for you, remember that Apple has partnered with fashion house Hermes, to create an exclusive line of Hermes Apple Watches.  It'll set you back a cool $1,500 but you'll be the envy of all your friends and neighbors.

The Leaves Difference
Carefully Screened, Qualified and Trained Care Givers