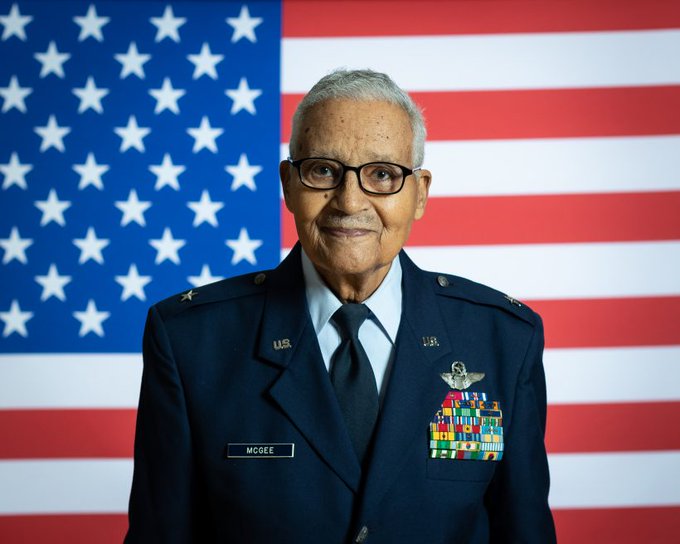 Who was Charles McGee?
On January 16th, 2022, Charles McGee finished his race at the age of 102!  Who was Charles McGee?  He was a US hero, a husband, a father, and a civil rights proponent.  Considering the many accomplishments of Charles McGee is staggering:
He fought in no less than three American wars, WWII, the Korean War, and the Vietnam War.
In all, he flew over 400 combat missions, over 6,300 flight hours
He and his band of brothers, known as the Tuskegee Airmen, were credited with destroying over 250 enemy aircraft
He was inducted into National Aviation Hall of Fame
He was given an honorary promotion to the rank of Brigadier General in 2020, four decades after his retirement from active service
He was one of three centenarians who did the coin toss at Superbowl LIV
But McGee is probably best known for fighting what became known as a "Double Victory" campaign.  At war, he fought the Axis powers while at home he, and the other Tuskegee Airmen, were fighting for racial equality.  General McGee once said they were fighting for "equality of opportunity".
One of McGee's great-grandfathers was enslaved before fighting in the Civil War. Charles' father was a minister and brought him to the Midwest where they settled in the Chicago area.  He graduated high school and was enrolled at the University of Illinois when he was drafted.  He joined the Tuskegee Airmen in 1942 and retired from the military as a colonel in 1973, after 3 decades of honorable service.
We salute the memory and accomplishments of this brave American who fought for our national freedom and who fought for the equality of opportunity.  We know that 80 years later, we must continue to guard our freedoms, and continue the advocate for equality of opportunity for people from every tribe, tongue, kindred and nation.
The Leaves Difference
Carefully Screened, Qualified and Trained Care Givers